Meet Elly, BRAVE cub reporter, 19 years old and a prospective major in sociology at the National University of Singapore. In volunteering with BRAVE SPACES – she hopes to push for more dialogue on intersectional feminism among youths in Singapore. In her spare time, she enjoys Netflix, poetry and making, she says too many playlists on Spotify.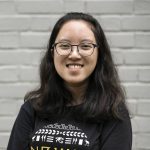 Elly covered the Goalball team for the Young Women Touch + Goalball Interaction on 17 June 2018. Here are her reflections on covering the event.
"Having had the privilege of being a part of the event, I had the opportunity to listen to the ladies' experience with goalball and how it has impacted their lives. Prior to this, I knew virtually nothing about para-sports in Singapore, so it was an incredibly informative and enriching session for me. The team's tight bond, enthusiasm, passion and the attitude of – when there is a communication problem in court, we don't make that into a distraction. Just relax and breathe in, calm yourself and call out to your teammates – left me feeling hopeful for them.
In a sport that is designed to champion egalitarianism, how do we then push for greater female representation, at least in the context of Singapore? How can we encourage more women to participate in para-sports at a competitive level? Governing associations, both local and regional, need to recognise the importance of creating women's para-sports teams and investing in them".
https://www.facebook.com/singaporetouch/
https://www.facebook.com/goalballsg/
Facebook album: https://www.facebook.com/pg/BraveSpacesSG/photos/?tab=album&album_id=1875450666091122