In our quest to empower women to live full, meaningful lives, Brave Spaces attended the 14th Global Conference on Ageing in Toronto, titled "Towards a Decade of Healthy Ageing – From Evidence to Action" organised by the International Federation on Ageing in August 2018 to gain new knowledge on living well in our older adult years. The four-day conference covered a special full-day track on "Addressing Inequalities". The conference saw 1,600 delegates from 75 countries.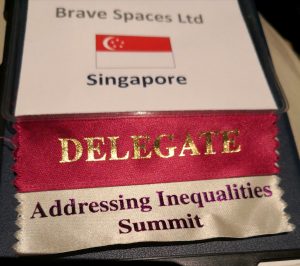 The conference illuminated how multi-faceted ageing is. Topics covered included innovations in the field of robotics, nutrition and medicine that are being developed to assist the elderly, and the importance and effectiveness of vaccination of preventable diseases and illnesses. Presentations and suggestions were also made on how to combat ageism and get older adults to live an active and purposeful life. 
Much of our attention was on topics relating to inequalities in ageing faced by elderly people because of their sexual orientation, gender or other disadvantages. Common difficulties faced by elderly women are social isolation, loneliness, failing health and losing independence. 
Surveys presented revealed that single elderly women (widowed/unmarried), as well as lesbian, bisexual, transgender, queer and intersex (LBTQI) women, are more likely to lack strong support from family members in old age, and while participation in activities and social interaction are key to combating social isolation, LBTQI women are more likely to face and experience discrimination in a social setting, particularly in residential care, because of others not being comfortable socialising with those of a minority sexual orientation or because these people have strong negative feelings toward LBTQI women. 
The conference left us asking these questions:
What support do fiercely independent single and/or LBTQI women in Singapore wish for as they age?

How will they manage as their health or the health of their partner fails?

What sort of information/resource do they need to plan for a vibrant third phase of their lives?

How are they preparing for good later years?
We seek your feedback and suggestions (regardless of your age). Tell us your thoughts here in the comments section of this post or write to us. Indicate "My Thoughts – My later years" as the subject of the email.