"The test of a civilisation is how it cares for its helpless members."
~ Pearl S. Buck ~
Brave Spaces for Brave Women
Brave Spaces is a Singapore-based non-profit organisation that develops programmes, provides social services, organises events, and conducts research and advocacy to empower women in Singapore.
As a values-driven inclusive organisation, we work closely with professionals, state bodies and independent organisations to develop flexible and sustainable programmes adapted to the needs of our primary stakeholders – women of intersectional identities who are multiply marginalised.
We adopt a collaborative approach in building capacities and growing our shared networks of care, resources and support for women.
Brave Spaces was officially launched on 10 March 2018.
---
Vision
Courage for every woman in need
Mission
To be the catalyst of positive change for diverse women through services, research and advocacy
To promote dialogues and create inclusive movements that transform structures to achieve equality of dignity and well-being
---
Brave Principles

Brave Spaces serves all women through social services with an advocacy-based understanding of intersectionality, feminism, social justice, and community-centredness.
Our guiding principles include:
Moving from identity-based to intersectionality-focused services, research and advocacy
Inclusive feminism that is compassionate and supportive of the multiply marginalised
Social justice: Through recognition, redistribution, and representation, collectively work towards equality of dignity and well-being for women of intersectionalities.
Embracing collaborative, adaptable, community-centred approaches in nurturing and empowering women of intersectionalities
---
Advocacy-based Focus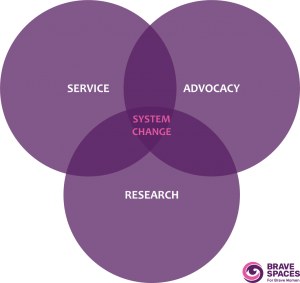 Brave Spaces believes in advocacy-based social services. Set in either one-to-one, familial, or group sessions, these involve an advocate counsellor guiding a participant in safety planning, empowering the participant, and reinforcing her autonomy and self-determination.
Advocacy-based counselling adopts problem-solving methods, which include:
Identifying barriers to safety
Develop safety checking and planning issues
Clarifying issues
Systematically and holistically address problems
Increasing self-esteem and self-awareness
Improving and implementing decision-making skills
Self-help and self-care
With an advocacy-focused approach to providing social services, Brave Spaces brings together advocacy skills such as safety and support, systems advocacy (e.g. housing, protection orders), navigating institutions, and resources and referrals; and counselling skills such as reflective listening, ongoing support for healing in trauma, rebuilding self-esteem, supporting with the identification of boundaries, clarifying expectations, negotiating conflict in relationships, and developing self-care skills.
We also believe in research and advocacy. Continuous data collection and vigorous research will help us better understand the realities faced by survivors and marginalised persons. With research grounded in these realities, we can provide recommendations to relevant stakeholders and address existing gaps and problem areas in supporting survivors.
You are welcome to get in touch with us or support us.
The Brave Team is currently looking for volunteers of all ages, to help us with the following:
Photography
Digital Marketing (Social media, copywriting/editing)
Copywriting, editing, proofing
Research
Brave Spaces is hiring for the following positions:
Coming soon. If you are interested in working for us, send us your resume, and we will be in touch with you if there is a relevant opening.