On 17 June 2018, Brave Spaces was invited by Singapore Young Women's Touch (YWT) to be present in their first interaction with Goalball Singapore (GS), Singapore's national goalball team. Goalball is a sport designed for persons with visual impairment. The event which took place in Delta Sports Hall, was orchestrated with several purposes in mind. First, to raise awareness of goalball in Singapore. For YWT , the coaches wished for the young women to experience the tight teamwork of a team with visual impairment. For GS, the coaches wished for their team to learn about what's needed to compete in the international arena – discipline, tenacity and self management in areas of practice, diet and lifestyle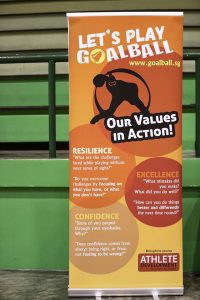 The Brave team for this project comprised of our very own Brave cub reporters and photographer (who came with a very pro camera) – Katie, Elly, Alicia and Sulin. We had an eye opening experience for a Sunday morning and surely learned quite a heck. We took away many meaningful messages – Focus on what you can control – See the value within you, trust it and run with it – Discipline and tenacity are necessary to achieve one's goals.
Many thanks to Anne Goh (national coaching director for Touch Singapore) for suggesting this and Claire Devine for powerful life quips.
The YWT will participate in the inaugural World Young Women Touch Competition in August 2018.
GS participated in the 2015 ASEAN Para Games and will be participating in the 2018 ASEAN PARA GAMES.
https://www.facebook.com/singaporetouch/
https://www.facebook.com/goalballsg/
Facebook album: https://www.facebook.com/pg/BraveSpacesSG/photos/?tab=album&album_id=1875450666091122