In recognition of the importance of emotional wellness, Brave Spaces invited Porsche Poh of SIlver Ribbon Singapore to share her wealth of experience on mental health in our dialogue. With such stigma surrounding issues of mental health, how do we recognise conditions in the people around us, what are the common mental disorders, and where do we seek help?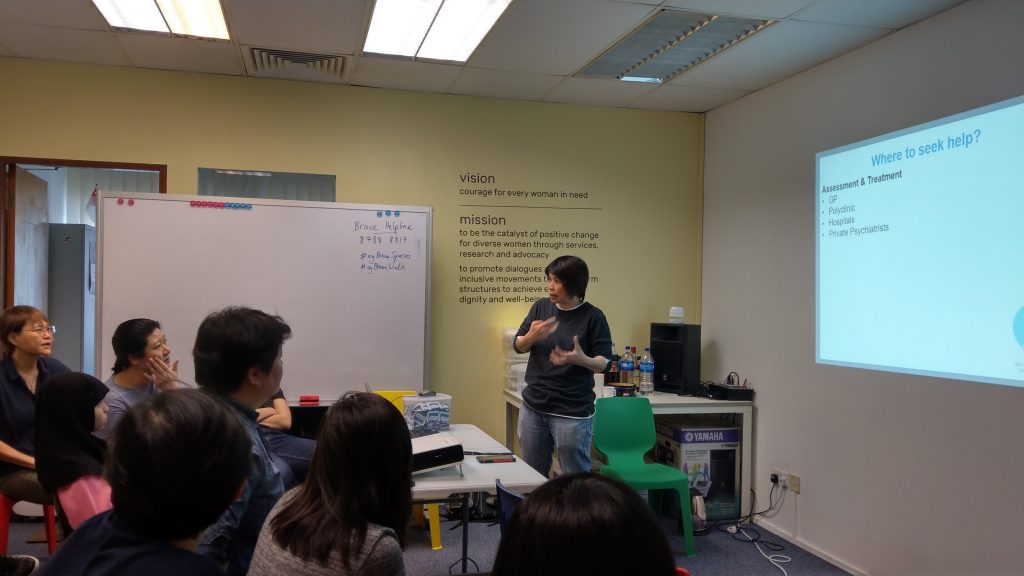 Here are our key takeaways:
A mental disorder is often regarded as being someone's "personality".
Mental health conditions may remain undisclosed to a potential employer or love interest due to stigma.
Why do people not seek help? They may feel they do not have a disorder or believe they can cope with it. This often has serious repercussions for their personal relationships.
Top three mental health conditions in Singapore are major depressive disorder (1 out of 17 persons), alcohol abuse (1 out of 32 persons) and obsessive-compulsive disorder (1 out of 33 persons). Other common disorders are depression, generalised anxiety disorder and schizophrenia.
How can we help a friend who exhibits symptoms of mental disorders? Practise active listening and be non-judgemental. When trying to persuade her to seek help, address her specific signs and symptoms and suggest professional assistance.
Simple checklist if we are mentally stressed: difficulty falling asleep; not feeling well-rested after a night's sleep; not getting at least six hours of undisrupted sleep per night; poor sleeping patterns that have lasted more than 2 weeks.
Sources for general help include general practitioners, polyclinics, hospitals and private psychiatrists. But the latter may provide less holistic treatment.
Organisations providing specific mental and emotional support:
Gaps in service provision exist in Singapore, notably that for LBTQI (lesbian, bisexual, transgender, queer and intersex) persons. Brave Spaces fills this gap with its Brave Helpline for LBTQI women. The Brave Helpline, a collaboration with AWARE, provides safe, affirming, and non-judgmental support and resources for persons going through crisis, or those seeking help to reflect on general areas in their lives. Face-to-face counselling is offered when it is deemed helpful.
Brave Spaces wrapped up the session with the organisation's belief that all women are entitled to live fulfilling lives despite the crises we encounter. Seeking help and a supportive environment goes a long way in enabling us to thrive.
Call the Brave Helpline: 8788 8817
Monday – Friday, 3pm to 9.30pm (excl. public holidays)